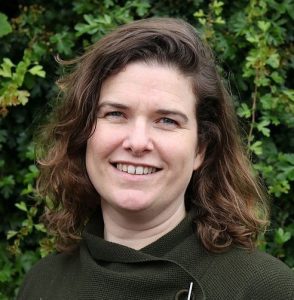 Wincanton Choral Society is delighted to announce that Katrine Reimers has been appointed the Choir's new Musical Director. Katrine grew up in Taunton and now lives in Bath. She has worked as accompanist for Wincanton Choral Society since 2014 and is now thrilled to be taking the reins as Musical Director.
Katrine studied music at King's College, Cambridge, gained a Master's degree in piano accompaniment at the Guildhall School of Music and Drama and completed her training as an opera coach and pianist at the National Opera Studio. She has since built a career as a choral conductor, vocal coach, accompanist and music teacher. Her work has spanned a wide range of contexts, from orchestral piano at the Royal Opera House to choral workshop-leading in prisons, and from massed-choir conducting of 3,000 singers at an international choral festival to directing an orchestra of young disabled musicians at the Colston Hall.
In addition to vocal coaching at English National Opera, Katrine heads large-scale concerts of international school children at the Cadogan Hall, London and recently led a highly successful study weekend for the Dorset Bach Cantata Club.
Katrine already knows Wincanton Choral Society very well as accompanist and has performed frequently on keyboard with orchestras at the Choir's public concerts. When the Choir reassembles for rehearsals on Monday 2 September at King Arthur's School in Wincanton, Katrine has chosen Charpentier's beautiful Messe de Minuit and an established favourite the Vivaldi Gloria to celebrate her appointment as Musical Director. These and other pieces will make up the programme for a major public concert in December with full details to follow.
Katrine and the Wincanton Choral Society welcome new members, men and women, to join and take part at this exciting time in the Choir's history.