Forthcoming Concerts:
Concerts have been cancelled for the duration of the COVID crisis.
Spring Concert / 30th Anniversary Concert 2020 – this concert, unfortunately, was cancelled as a result of the COVID crisis.
(The 30th anniversary of Wincanton Choral Society but also the 250th anniversary of the birth of Ludwig van Beethoven.)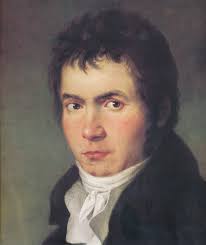 Beethoven at about the time he composed the Mass in C.
7.30 pm on Sunday 17th May
at Wincanton Sports Centre.
Programme includes:
Forthcoming social events:
Monday 10th February
Wine & nibbles. (The Bring'n'buy Book Sale has been postponed until later in the term.)
Other Events:
Next committee meeting:
Tuesday 14th January 2020 at 7.00pm