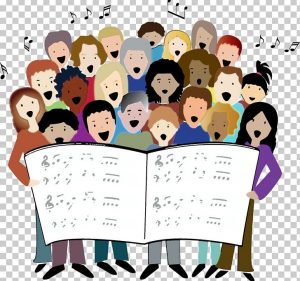 Rehearsals normally take place on Monday evenings starting at 7.15pm in the Performance Enhancement Centre at King Arthur's School, Wincanton.
At the Musical Director's discretion we occasionally have sectional rehearsals. You will be given plenty of notice to such changes.
To ensure that the Musical Director's instructions are remembered and acted upon, please bring a soft (B) pencil and rubber with which to annotate the music.
All marks must be erased before returning the music after each concert.
*Please note, as well as attending as many rehearsals as possible members are reminded that they must attend the last three rehearsals prior to a concert (i.e. Monday, Friday and Sunday afternoon on the concert day) if they wish to sing in that concert.
The full rehearsal calendar for 2019/20 can be downloaded below.
REHEARSALS FOR THE SPRING SEASON 2020:
January: 6th - 6.30pm for issuing of music, 13th, 20th and 27th.
February: 3rd, 10th (including bring'n'buy book sale and wine & nibbles), 17th (half-term with rehearsal as normal) and 24th.
March: 2nd, 9th, 16th , 23rd and 30th.
April: 6th (rehearsal with wine & nibbles and concert tickets available) , 13th (Easter Bank Holiday - no rehearsal), 20th and 27th.
May: Monday 4th (May Day Bank Holiday - rehearsal as normal), May 11th* (return of tickets and cash/cheques), Friday 15th* and Sunday 17th rehearsal with orchestra 1.45pm* and Concert 7.30pm. Monday 18th AGM and return of music (in folder, please) followed by Spring Social.
ITEMS FOR FORTHCOMING REHEARSALS (MONDAY 16th March)
Beethoven: Mass in C: Re-cap Gloria and Kyrie
Haydn: re-cap Insanae et vanae curae
Mozart: re-cap Ave Verum Corpus.
COMMITTEE 2019-2020
Chairman: Martin Turner
Vice-chair: Mark Dickin
Secretary: Richard Pratt
Treasurer: George Keen
Membership Secretary: Gareth Evans
Concert Manager: Sarah Urquhart
Committee Member: Pervaneh Child
Committee Member: Benedict Critchley
Committee Member: Teresa Dufosee
Committee Member: Jacky King
with
Librarian: Barbara Yoxall
Minutes of committee meetings can be obtained from the Secretary (contact details available in WCS's Members Guide and Calendar).
Performance Directions for Choristers
Don't know what all those Latin terms mean? Find out here.
Wincanton Choral Society Data Protection Privacy Notice
Download the Wincanton Choral Society Data Protection Privacy Notice
Wincanton Choral Society Data Protection Privacy Policy
Download the Wincanton Choral Society Data Protection Privacy Policy
Rehearsal Calendar 2019/2020
Download the calendar of rehearsal dates for the year 2019/2020.
Constitution
Download a PDF of our constitution.
Learning at home
To enable you to rehearse at home and thus be note and word perfect during rehearsals(!) you may find the following website links helpful: